Welcome to You beautiful December Moon what is your message to us
"The big cleaning of this year continues. Time to leave what hurts and take a step back in your perceptions and emotions. A lunar knot very present that invites you to get rid of what block you in your life. Order, classify, clean…. And the demonstrations will follow. Celebrate the process that is engaged in the enhancement of your being, the one that reveals itself and blossoms behind the dark moon. Don't give up on your dreams, trust. Because suddenly and without being prepared for it, your path also is going. to change. A real change of direction is about to be experienced around you or maybe in you. Something that cannot and will not be controlled, do not resist and let my hand or the one your guardians of your heart guide the course of your life. Accept the inevitable, adapt and transform yourself , like with each cycle seized the opportunity. "
The solar eclipse in the heart of the new moon brings emotional balance. The hidden knowledge will be revealed. Through this month, we finish what we have started and come back to our inner resources, our wisdom and our personal experiences. Great care is being put in place at global level. The transformation takes place over and over again, but it is time to step out of the cocoon … To dare to move on to the next stage, to take one more step in this life of resurrection and continuous transformation. But since everything requires a balance, stay awake, because light also attracts shadow. All we do is prepare the canvas and the colors to create the work that is already taking shape for 2022. And we draw it every time we recognize our inner power.
December Moon Meetings :
New Moon of December 4, 2021 at 8.44 am accompanied by a solar eclipse News of the Moon

 Quarter Moon December 11, 2021 – Yoga Posture on YouTube The moon challenge continues

Full Moon December 19, 2021 at 5.35 – Moon Circle – Meeting and sharing at the studio and by Zoom on December 17 at 8:30 p.m.

Quarter of the Moon December 27, 2021 – Relaxation on YouTube
To get the small News of Moon booklet including more info on the symbol of this moon – the Stone, the Yoga posture, a ritual Contact me I will send it to you in exchange of a donation.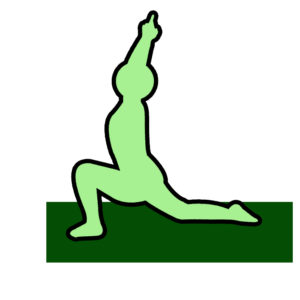 The December Quarter Moon Challenge
Anjaneyasana the rising moon: to rise – choose a direction, awake
Hanuman's first name would have been Anjana. Anjana was blessed by heaven. It represents the divine child who catches his dreams in the sky. Anjana looking at the sun god would have been blessed and then died by accident through one of the lightning bolts sent from the sky during the blessing. The Sun God would then have brought him back to life and renamed Hanuman. This pose thus represents transformation, rebirth, the divine and the possibilities of becoming one's dream. It activates all the chakras and aligns them around that of the heart open to the sky.